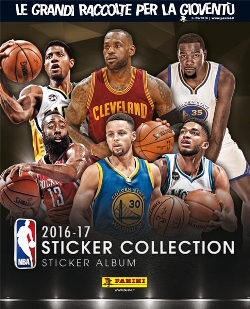 Fans der US-amerikanischen Basketball-Profiliga NBA haben es in Deutschland beim Thema Sticker und Trading Cards schwer. Nach der Hochphase Mitte der 1990er-Jahre mit zahlreichen Cards-Kollektionen von Upper Deck und Panini/Fleer gab es zwar in den vergangenen Jahren immer wieder Versuche von Panini, Cards auf den deutschen Markt zu bringen, doch die waren offenbar nur wenig erfolgreich. Das offizielle Stickeralbum zur NBA erscheint seit jeher nur außerhalb von Deutschland. Zu bekommen ist es daher nur per Import aus Ländern wie Italien, Spanien, Frankreich oder der Schweiz. Ende Oktober erschien dort das neueste Album.
Name: NBA 2016-17 Sticker Collection
Publisher: Panini
Release (I): 26. Oktober 2016
Sticker: 443
Erhältliche Produkte:
– Album – 2 Euro
– Tüten (mit 5 Stickern) – 70 Cent [ein Display enthält 50 Tüten]
Aufbau der Sammlung:
001-008 Season Highlights 2015-2016
009-020 Boston Celtics
021-032 Brooklyn Nets
033-044 New York Knicks
045-056 Philadelphia 76ers
057-068 Toronto Raptors
069-080 Chicago Bulls
081-092 Cleveland Cavaliers
093-104 Detroit Pistons
105-116 Indiana Pacers
117-128 Milwaukee Bucks
129-140 Atlanta Hawks
141-152 Charlotte Hornets
153-164 Miami Heat
165-176 Orlando Magic
177-188 Washington Wizards
189-200 Dallas Mavericks
201-212 Houston Rockets
213-224 Memphis Grizzlies
225-236 New Orleans Pelicans
237-248 San Antonio Spurs
249-260 Denver Nuggets
261-272 Minnesota Timberwolves
273-284 Oklahoma City Thunder
285-296 Portland Trail Blazers
297-308 Utah Jazz
309-320 Golden State Warrios
321-332 Los Angeles Clippers
333-344 Los Angeles Lakers
345-356 Phoenix Suns
357-368 Sacramento Kings
369-373 Christmas Day 2015
374-379 All Star Toronto 2016
380-388 Western Conference All-Stars
389-397 Eastern Conference All-Stars
398-411 Playoffs 2016
412-418 NBA Finals 2016
419-424 2016 NBA Champions
425-431 NBA Awards 2015-16
432-437 NBA Draft 2016
438-443 NBA Teams & Divisions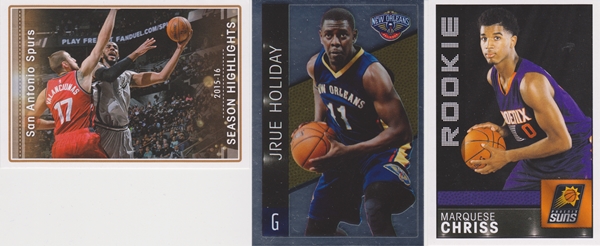 Ein Sticker mit "Season Highlights" 2015-16, Jrue Holiday als Glitzer-Sticker und Rookie Marquese Chriss
Die NBA-Alben bilden das Geschehen in der Liga traditionell sehr umfangreich ab. Kernstück ist natürlich der Teil mit den 30 Teams. Jedes der Teams hat eine Doppelseite im Album, auf der 12 Sticker Platz finden: sieben normale Spieler-Sticker, drei Silber-Sticker mit den Stars, sowie ein Sticker mit dem Team-Logo und einer mit den Trikots.

Die Trikots der Denver Nuggets, Manu Ginobili und das Logo der Golden State Warriors
Zusätzlich gibt es über 80 Sticker mit Motiven zu den Playoffs und Highlights der vorigen Saison, zu den NBA Awards, dem All-Star-Spiel und vieles mehr. Der Sammler und NBA-Fan bekommt so einen tollen Überblick über die wichtigste Basketball-Liga der Welt.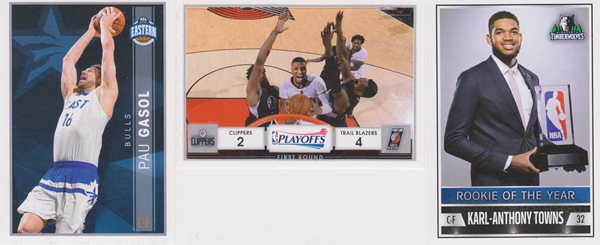 All-Star Pau Gasol, eine Szene aus den Playoffs 2015-16 und der Rookie of the Year Karl-Anthony Towns
Fazit: Ein tolles Sport-Album, das insbesondere im Manteilteil mit den vielen Bildern zur vorigen Saison, All-Stars, etc. vorbildlich ist.