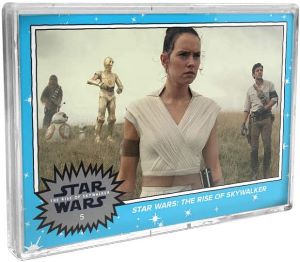 Für alle "Star Wars"-Fans, die voller Vorfreude auf den letzten Film der Skywalker-Saga warteten, brachte Topps schon zum ersten Trailer zehn Trading Cards zum Preis von 7,99 Euro.
Name: Star Wars: The Rise of Skywalker Trailer 10 Card Set
Publisher: Topps
Release (D): 15. April 2019
Cards: 10
In Deutschland erhältliche Produkte:
– 10 Card Set – 7,99 Euro
Aufbau der Sammlung:
01-10 Star Wars: The Rise of Skywalker
Die zehn Cards zeigen Szenen aus dem allerersten Trailer zu "Star Wars: The Rise of Skywalker". Die Qualität der Cards ist nicht übermäßig besonders, trotz des Preises von immerhin 80 Cent pro Karte. Zudem ist die Qualität der Fotos mäßig, auf manchen Karten zu düster und leicht schmuddelig. Zu bestellen war das Set nur online direkt bei Topps, gedruckt wurden nur so viele Sets, wie zuvor bestellt wurden – insgesamt 3.597 Stück.
Fazit: Zu teuer.
—
Youtube-Video mit Blick auf die Cards: