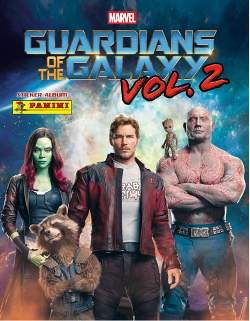 Der erste "Guardians of the Galaxy"-Film war ein großer Erfolg, daher wird der zweite Film nun von Panini mit zwei Sammel-Produkten bedacht. In Deutschland gibt es Trading Cards, in anderen Ländern wie Großbritannien und Spanien ist ein Stickeralbum auf den Markt gekommen.
Name: Guardians of the Galaxy Vol. 2 Sticker Album
Publisher: Panini
Release (UK): 20. April 2017
Sticker: 180
Erhältliche Produkte:
– Starter Pack (mit Album und fünf Sticker-Tüten) – 2,99 britische Pfund
– Album – 1,50 britische Pfund
– Tüte (mit 5 Stickern) – 0,50 britische Pfund
Aufbau der Sammlung:
001-007 Guardians of the Galaxy Vol. 2
008-037 Star-Lord
038-053 Rocket
054-070 Groot
071-088 Gamora
089-100 Drax
101-111 Nebula
112-120 Mantis
121-130 Ego
131-136 Yondu
137-142 The Ravagers
143-144 The Milano
145-146 Eclector
147-151 Sovereign
152-162 Incredible Action
163-167 Travelling through the Galaxies…
168-173 …past the Edge of what is known.
174-180 Goodbye
Die Kollektion besteht also aus 180 Stickern, darunter 24 Holo-Sticker mit Glitzer-Effekt und 12 Blau-Silber-Sticker. Die 24 Holo-Sticker sind allesamt zwei- oder vierteilige Puzzle-Sticker. Die Sticker enthalten sowohl aus Fotos aus dem Film, als auch aus Zeichnungen und meist tollen Illustrationen.
Das Album ist aufgeteilt in die verschiedenen Charaktere, die zum Teil auf absurd vielen Stickern vorgestellt werden. Die Story des Films wird hingegen leider nicht erzählt. Alles sehr uninspiriert .

Ein normaler Sticker, ein blau-silberner und ein Holo-Glitzer-Sticker
Fazit: Eine enttäuschend dünne Kollektion ohne echte Infos zum Film. Für Fans des Films okay, aber für Panini-Film-Album-Verhältnisse schwach.