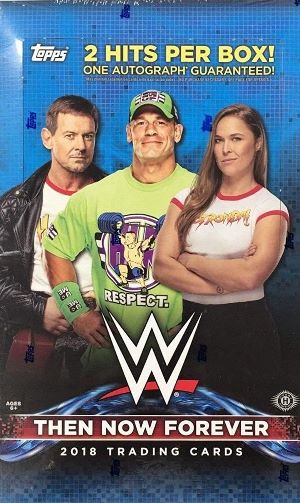 Eine weitere Wrestling-Cards-Kollektion von Topps. Im Original in den USA erschienen, in Deutschland offiziell nur via Topps-Online-Shop erhältlich.
Name: WWE Then, Now, Forever 2018 Trading Cards
Publisher: Topps
Release (D): April 2019
Cards: 200 (plus Parallels, Autographs und Relics)
Erhältliche Produkte:
– Hobby Collection (Box mit 25 Tüten a 7 Karten) – 59,99 Euro
Aufbau der Sammlung:
101-200 Base Cards [Parallels: Bronze, Blue, Silver, Gold, Red, Printing Plates, 24 der Karten auch mit Image Variation]
RAW1-50 25 Year of Raw
R21-R40 Roster Update
31-40 Randy Savage Tribute Part Four
31-40 Shawn Michaels Tribute Part Four
31-40 WWE Hall of Fame Tribute Part Four
Autographs:
30x Base Autograph [Parallels: Blue, Silver, Gold, Red]
4xTA Triple Autograph
3xSM Shawn Michaels Auto/Relic
3xKC Autograph Kiss Cards
12xSR Autograph Shirt Relic
12xMRARR Autograph Royal Rumble 2018 Mat Relic
Relics:
3xKC Kiss Cards
12xSR Shirt Relic
53xMR Mat Relic
10xFC Four Corners Mat Relic
Wie der Start mit der Nummer 101 schon zeigt, ist die Kollektion eine Fortsetzung. Die Vorgänger-Serie "2018 Topps WWE Wrestling Cards" war meines Wissens nach nicht offiziell in Deutschland erhältlich, was den Verkauf von Karten ab Nummer 101 natürlich etwas fragwürdig macht.
Da ich keine Karten aus der Kollektion besitze, folgt hier nur noch der offizielle Werbetext von Topps – und kein Fazit:
"Topps WWE Then Now Forever enthält die WWE Superstars von 2018 & viele WWE Legenden! Damit bildet diese Kollektion im Topps Design eine große Sammlung deiner Superstars! In den Kartenpäckchen kannst du viele besondere Karten finden: Autogramm-Karten der Superstars, WWE Legenden, Neulinge & NXT Prospects! Karten mit dem Kussmund-Abdruck der größten weiblichen Superstars aus WWE & NXT und Memorabilia-Karten mit Stücken von T-Shirts der WWE & NXT Superstars!"
—
Kaufen und Tauschen:
– Boxen bei de.topps.com kaufen.
—
Youtube-Videos mit Pack-Openings: